Southern Advisory Council
Southern Advisory Council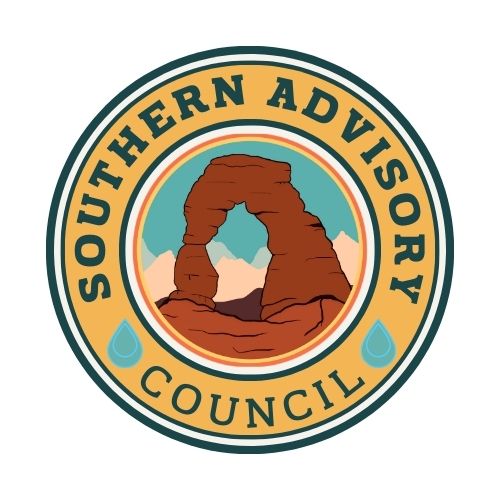 The Southern Advisory Council (SAC) is composed of 13 members representing various perspectives from south and southeastern Utah. Members of the SAC represent diverse backgrounds and viewpoints from the region, including some with a state or local government background. Others represent the energy and agricultural industries. Other members work with water districts, academia, or advocacy organizations. We are grateful for the opportunity to present to the Board a few recommendations that have emerged from our conversations this past year.
Co-Chair: Adam Snow – Adam is a Commissioner for Washington County. His family was one of the first to settle Washington County, and Snow Canyon is named for his 3rd great-grandfather. For almost 6 years, Adam has been the Southern Utah Director for Congressman Chris Stewart, working for the citizens of southern Utah. He is an active member of the GOP, and currently serves on the State Central Committee and State Executive Committee. Adam has served as a county delegate, precinct chair, state delegate, and campaigned for conservatives across the Southwest. Adam earned his M.B.A.  from Pepperdine University, an M.D.R. (ie: Master of Negotiation) from Pepperdine School of Law, and a Bachelor's from the University of Arizona
George Matocha - George is the Chairman of the San Juan Water Conservancy in Blanding, Utah. President and owner of Matocha Associates, a planning, architecture, and engineering firm, George has also served two terms on the City of Monticello Planning Commission. George received a BS in Architectural Engineering and an MS in Business Administration. George lives in Monticello.
Brock Belnap - Brock is the Associate General Manager for the Washington County Water Conservancy District. Brock previously served as the County Attorney for Washington County for 16 years. He earned his associate degree from Dixie College, a BA from the University of Utah, and went on to BYU where he earned his JD in 1992. Brock lives with his family in St. George.
Bruce Adams – Bruce is a sitting County Commissioner for San Juan, a position he has held since 2005. Bruce is a rancher, former schoolteacher, and longtime resident of Monticello. Bruce has a long history in multiple government and administrative roles, including on the Permanent Community Impact Fund Board, and currently serves as a Board Member for the Utah Association of Counties.
Stanley Wood - Is a Wayne County Commissioner where he oversees the county's work on water, public lands, and public health. He has served on many boards and committees and brings an agricultural perspective to county government. Stan is a resident of Lyman.
Elaine York – Elaine is the West Desert Regional Director for The Nature Conservancy and has over 25 years of experience in leading collaborative projects to support and improve Utah's natural areas, both terrestrial and aquatic. She has extensive experience in partner engagement, strategic planning, fundraising, and natural system enhancement projects all in a collaborative context with federal, state, and local partners as well as ranchers and agricultural producers. Elaine has a BS in Anthropology and MS in Education from the University of Utah.
Edward Andrechak - Edward has 35 years of experience in engineering, account management, and business development. He currently serves as the Vice President of Water Program Director for Conserve Southwest Utah (CSU) where he leads their Water Program. As a Board member of CSU, Edward also is directly involved in organizational strategic planning and tactical administration. Edward earned his MBA from UCLA and his BS in Chemical Engineering from Virginia Tech and currently lives in Ivins.
Kaden Figgins- Kaden is currently serving as the Director of Planning & Economic Development for Garfield County, Utah.  Born and raised in Panguitch, Utah, Kaden has a deep-rooted connection to the community and a genuine passion for its growth and prosperity. He holds a degree in Finance from Dixie State University and a certificate in Economic Development from Utah Valley University. Throughout the last 5 years in his role, Kaden developed a solid foundation in land use planning, zoning regulations, and community development.
Stacy Young- Stacy has been a developer and land use attorney for over 20 years. In that time, he has been directly involved in developing thousands of homes and related commercial and civic uses in Washington County and is also the public policy director for the Southern Utah Home Builders Association. Before becoming a developer, Stacy was a management consultant for a boutique consultancy based in Las Vegas. His hobbies include trail running and cycling in beautiful southern Utah. He has a bachelor's degree from the University of Utah and a JD and MBA from Washington University in St. Louis.
Shanandoah Anderson- Shanan is a tribal member of the Shivwits Band of Paiutes. She is the current Tribal Liaison for the Shivwits Band on Water Rights and all issues concerning the Upper, and Lower Colorado River. Shanandoah also works as a tribal monitor for the Southern Paiute Consortium (SPC) to ensure the protection of cultural resources along the Colorado River as well as a member of the Culture Committee and Emergency Management for the Shivwits Band.  She is a personal Cultural Consultant on the history and culture of the Southern Paiute people located in Utah, Nevada, Arizona, and California and does speaking engagements and consulting for schools, government, state agencies, tribes, television series such as Netflix, documentaries, authors and a variety of private entities.
Anthony Mancuso- Anthony is the Colorado River & Green River Coordinator for the Division of Forestry, Fire and State Lands at the Utah Department of Natural Resources. He has served on the planning team and steering committees over the Green and Colorado River Comprehensive Management plans. Anthony previously worked as a whitewater outfitter and raft guide and as a counselor for special needs populations. Anthony received a Bachelor of Science in Geography and Outdoor Recreation Leadership from Mansfield University.
Bill Winfield-  Bill is currently the Commissioner for Grand County
Carl Albrecht- Carl is a member of the Utah House of Representatives, representing Emery, Grand, Sanpete and Sevier Counties.
OBJECTIVES FOR 2023
Schedule fact-finding site visits to key areas in the southern region (agriculture, water recycling efforts, conservation, and science on the river)
Identify additional ideas/projects to recommend to the Board
Monitor water legislation emerging from the 2022-23 legislative sessions
Invite groups and individuals with water interests from within the region to help SAC members acquire a broader understanding of informed and unique perspectives (possible examples include: farm bureau, irrigation districts, conservancy districts, Tribal perspective, homebuilders, etc.)
2023 RECOMMENDATIONS TO THE BOARD
CONSERVATION
FAIRNESS, NEGOTIATION, AND FUTURE WATER RIGHTS
ENERGY & STORAGE
WATER USE
MEASUREMENT AND TRANSPARENCY
PEOPLE AND WILDLIFE